Swiss Travel Pass
For all your travel around Switzerland by train and bus. The infrastructure is fantastic in Switzerland and the majority of Swiss people use the train service. Order the Swiss Travel Pass for all of your travel by train, bus and some boats. Not for cable cars which might offer you a 50% reduction with a Swiss Pass.
Remember – Switzerland is a small country. You can easily travel around Switzerland. It might seem expensive to buy a Swiss Pass but it will save you lots of money. More information here. If you are based in Zürich, it's easy to travel by train to Bern, Lausanne, Interlaken, Geneva, Lugano etc. for a day excursion from the main train station in Zürich.
—
—
SBB Mobile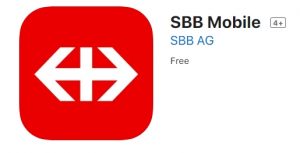 I can recommend downloading this app from Swiss railways. It will give you all the transport timetables in Switzerland. (Trains, boats, trams, buses, etc.) It's free and in English. More on SBB mobile here.
—
—
Travelling from Interlaken around the Jungfrau region
It has been possible to purchase a 3 or more day pass for the Jungfrau region. Use the train from Interlaken to travel to Lauterbrunnen, or Grindelwald. From these locations travel into the Swiss Alps. This will allow you access on most* of the cable cars. (*Not the cable car at Stechelberg or the cable car to the Schilthorn.) At the time of writing (December 2021) you can also purchase the Corona Pass to travel on the new Eiger Express cable car to the Jungfraujoch as many times as you like! Use the Eiger Express cable car as many times as you like!
—
—
Guest Card
Digital Guest card. Here is more information on a digital guest card for the Interlaken region. (New from December 2021.)
Ask your hotel in Interlaken for a Guest Card. It will give you discounts and most of the time free travel on the local bus service. Use it to travel for free to Iseltwald. Most towns have a guest card.
If you have a problem, there is a Day ticket (Tageskarte) for the local bus service in Interlaken. The area it can be used includes Beatenburg and Iseltwald.
Suggestion:
Take the Number 21 from Interlaken West or Ost railway station to "Unterseen Neuhaus". Walk down past the Interlaken Golfclub or the Golf & Strand Hotel Neuhaus and enjoy a nice walk by the side of Lake Thun (Thunersee). Google Maps: 46.67732 7.81774